So, you've decided that you're ready to start your early-stage investing journey.
Great! Now what? In this next piece, we're excited to dive into the nitty-gritty of how
to choose the best investment pathway for yourself. Before we get started, we want
to make sure you have checked out our precursor article—
Setting Yourself Up
Financially to Begin Your Angel Investing Journey
— which lays out the prerequisites for
investing in this asset class.
Now that you're up to speed, let's get into it. We've created the following visual to guide
you through some of the most important considerations in choosing
how
to invest
.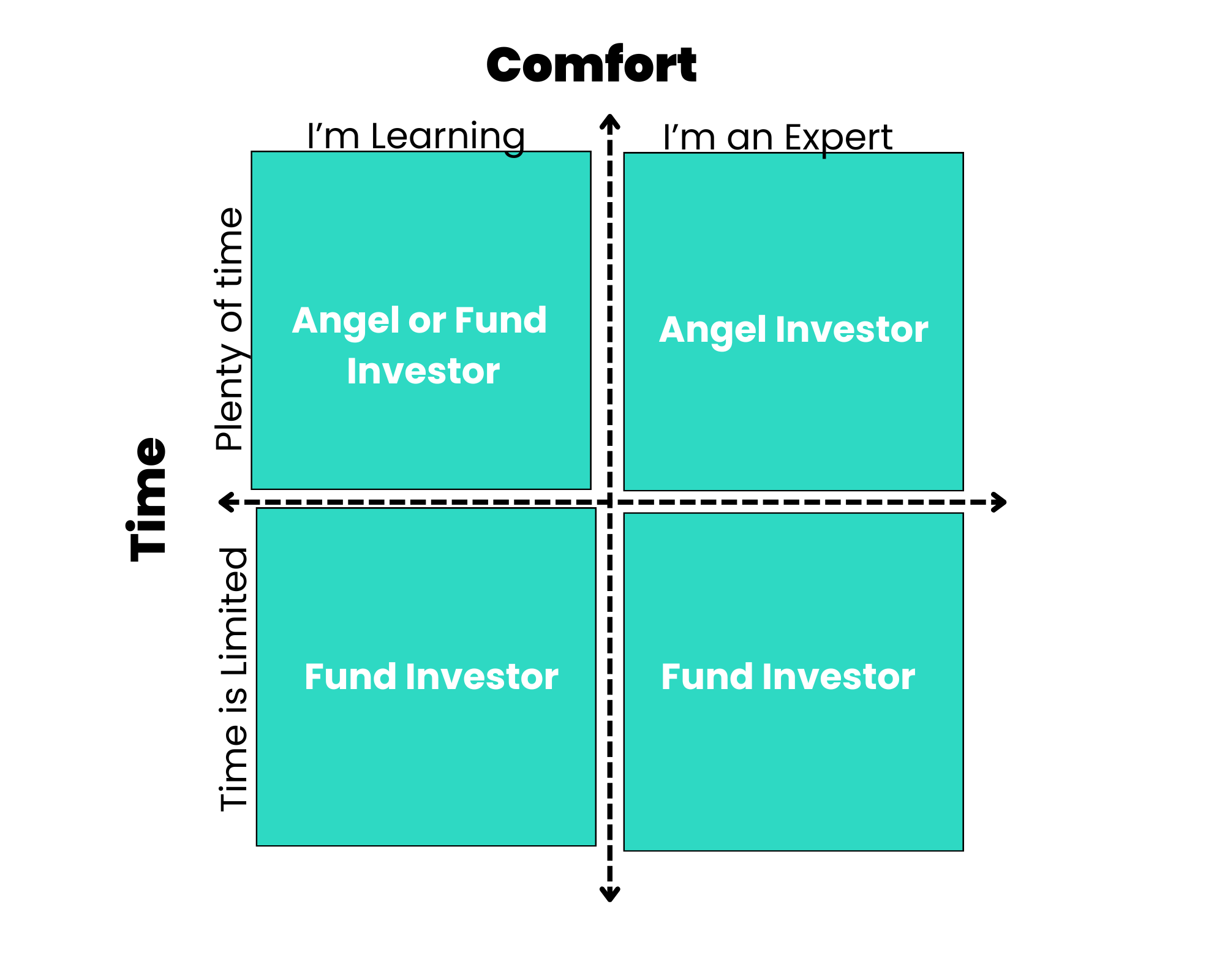 As you can see from the table, we've simplified the decision process to two key elements
—time and comfort. Before we jump into the matrix, it's important to address
the desired outcome. Why do we want to do this in the first place?
Motivations for early-stage investors vary—some enjoy investing their expertise in the
next generation of entrepreneurs, some want to stay sharp on the most important
aspects of innovation, some like the network, but all desire to do it in a
way that produces a return.
Returns can be produced by taking either approach, but the likelihood of your future
success relies heavily on your portfolio strategy. With most funds, your portfolio is built
into the offering (Groove targets 50+ investments in its fund, for example).
As an angel investor, your job is to take a similar approach and build a portfolio.
Keeping the math simple, if you have $100,000 to invest in this asset class, we suggest
dividing that number by 10; this will allow you to make 10 $10,000
investments over the course of a few years.
A portfolio approach is the key to early-stage investing.
If we're in agreement on that, let's proceed to the two dimensions in our matrix,
starting with time.
Building a portfolio takes time. If you're taking that effort upon yourself, you need to build
in an allowance of time to source investments, conduct due diligence, and wait for
the right deals to come along that meet your investment thesis. If you invest in
5% of what you look at, you'll need to review 200 deals. Patience is key.
If your time is limited, investing in a venture fund may be a better fit for your current
availability.
If you have the time and are eager to learn, you may find a fit in either option.
Angel investing with a group or within a hybrid venture fund, like Groove, will provide
you with ample opportunities to invest and to learn alongside other investors
.
Many angels are drawn to investing because they embody a unique set of experiences
and/or expertise that helps them make more informed investment decisions
. Examples include familiarity with operating a business, industry expertise
, or some unique insight into the opportunity that's not well understood or commonly
known.
Everyone is an expert in something, how can you leverage your expertise to give yourself a leg up in your investing?

Whether you are learning or an early-stage investing expert, your available time may
change. When you invest in a fund, the decisions are made on your behalf and
your portfolio is constructed for you, even while you focus on closing out your
impending deadline.
The right fund and angel network should provide you with the opportunities to engage, when you have
the time, in parts of the investing process that you're most excited about. Groove regularly
asks its angels and fund investors to serve as subject matter experts in the
diligence process and to jump in to support our portfolio companies, as the needs
arise.
The key to successful early-stage investing is to adapt your plan over time. Your circumstances
, including your expertise, available time, financial resources, and comfortability
with investing will evolve. Be prepared to adjust to whatever opportunities
align best with the resources you have available at any given time.