The year is 2021. I'm new to the MN startup scene and Groove Capital is in its earliest days. I'm eagerly setting things up for one of my first Groove events. The goal was to gather angel investors at a pep rally before going over to the Beta Showcase during Twin Cities Startup Week.
I was thrilled as people started to pour into the room; the energy was palpable. But as more people got settled in, I started to panic. Where were the women? Where was the diversity? Of our 90 attendees, 3 were women (including myself!) and 4 were Black. This was my wakeup call.
Historically the MN startup ecosystem has been critically undercapitalized; we need more angels. This challenge is even more dire for women and Black/Brown founders who continue to be underfunded nationally and in Minnesota. Research shows if we build a more diverse angel investor class, that will in turn lead to a broader range of founders and startups who get funding. Moreover, for individuals, having access to the full range of investment opportunities to diversify their investment portfolio is critical to building wealth. Said more plainly: angel investing should not be gatekept.
I'd like to believe we've been moving the needle in a positive direction since those early days. We've connected with some amazing partners to help address these challenges; listened to our women & Black/Brown investors to understand their unique barriers to entry; and collaboratively rolled out meaningful programming, cohorts, and events to welcome and empower more women and Black/Brown investors into our investor community. A highlight of that work is the Catalyst Angel MN Cohort.
Catalyst Angel Program
The Catalyst Angel Program is designed to provide in-depth training for emerging angel investors who identify as Black/Brown, Latinx, and/or a woman.
The program includes 6 virtual courses through Angel Capital Association's "Angel University" (all expenses paid), 2+ in-person Minnesota cohort events, Angel Capital Association individual membership, and more.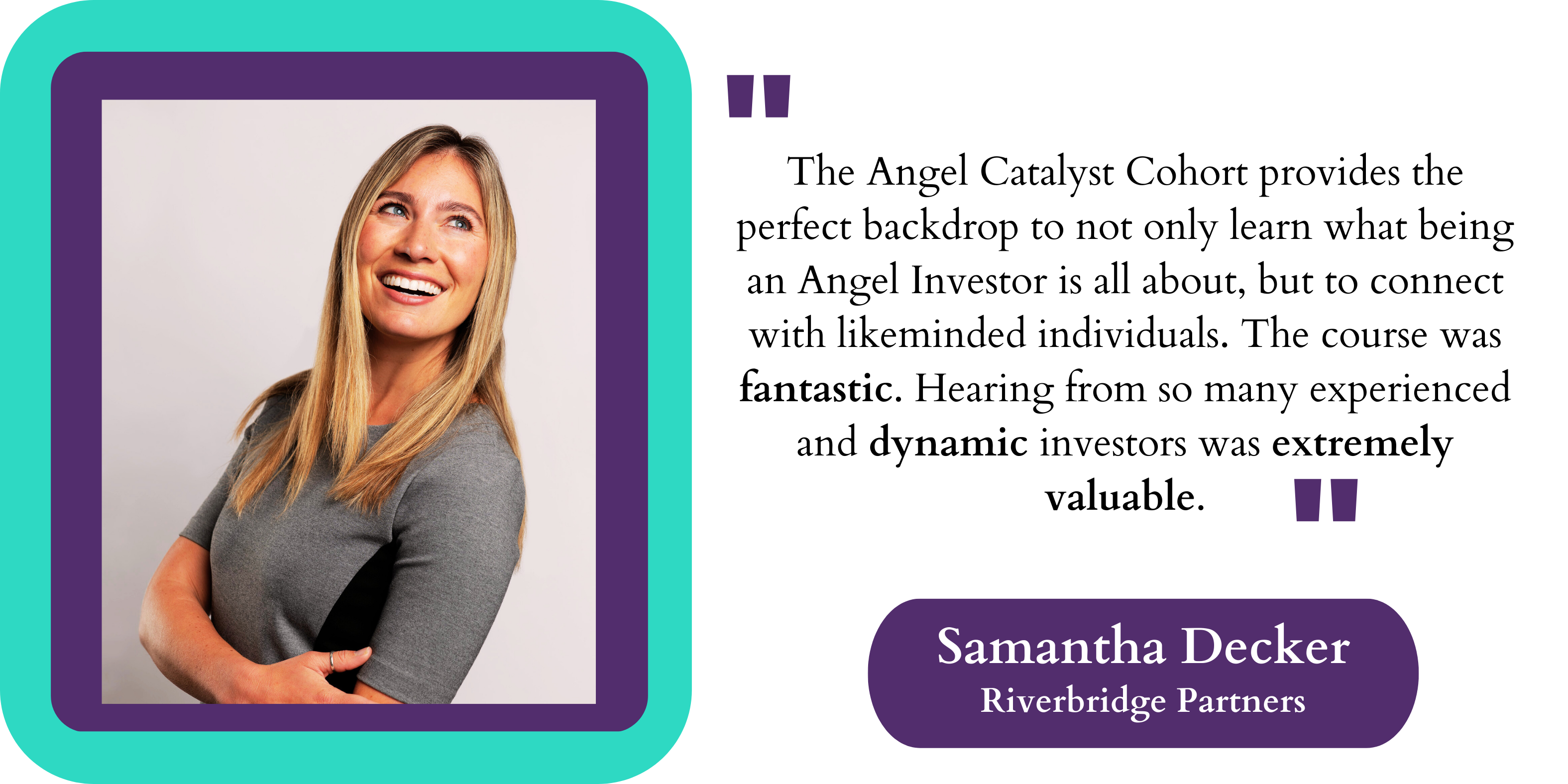 FALL SCHEDULE
All classes are held virtually from 4pm-6pm CT and taught through Angel Capital Association's Angel University.
Sept 19: Fundamentals of Angel Investing

Sept 26: Risks in Angel Investing

Oct 3: Angel Returns & PS

Oct 10: Due Diligence

Oct 17: Term Sheets

Oct 24: Valuation
Bonus in-person events and meetups will be collaboratively set with the cohort.
PROGRAM REQUIREMENTS
Self-identify as Black, Latinx and/or a woman

2 years or less of angel investing experience

Reside in Minnesota, Michigan, Illinois, Indiana, Ohio, or Wisconsin

Commit to completing the six Angel Capital Association classes

Be an accredited investor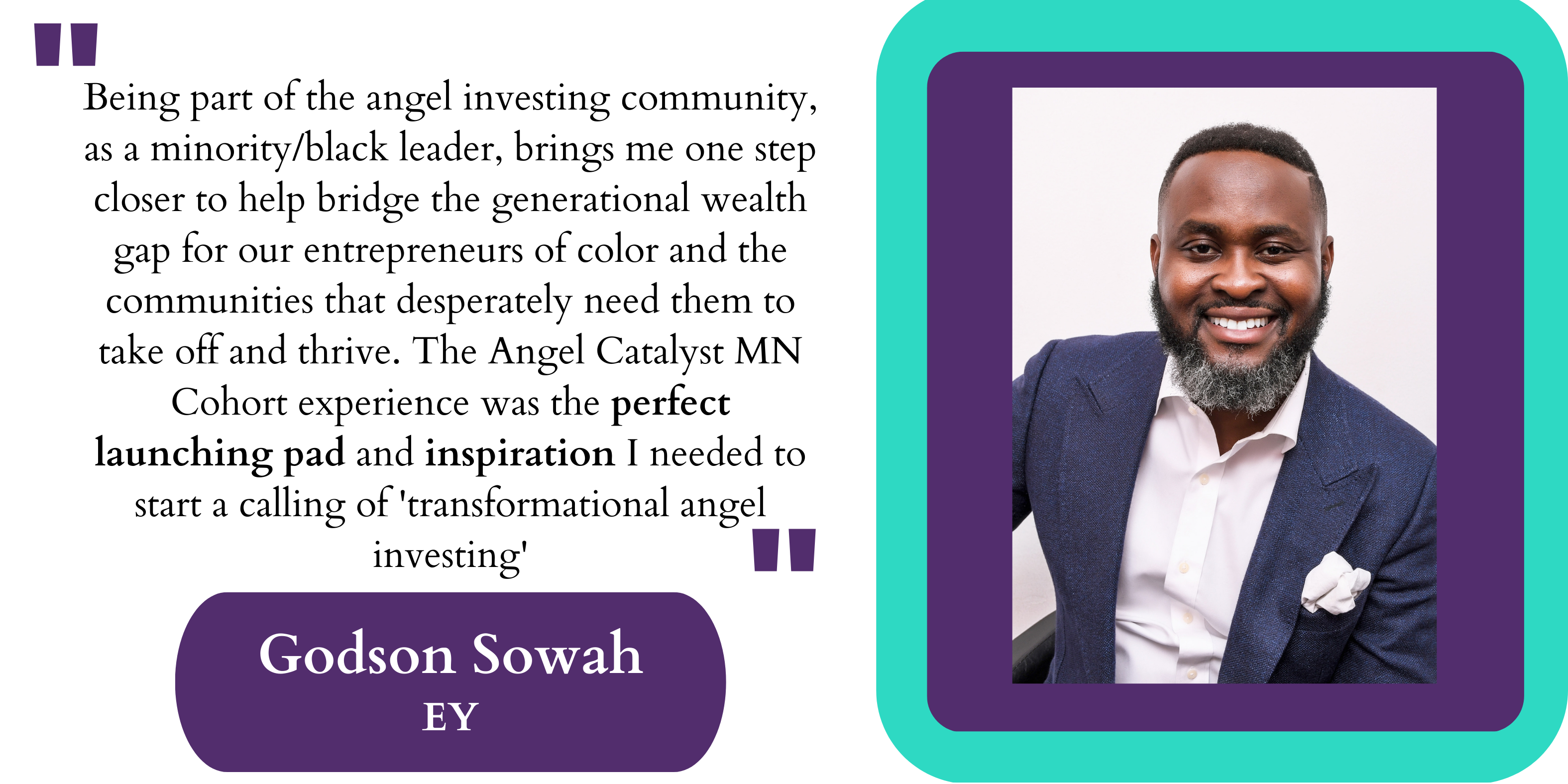 GET STARTED
Visit techtowndetroit.org/capital for more information. Minnesota Cohort applications are due September 15, 2023. Be sure to use your Minnesota address in the application to get connected to the MN Cohort.
Want more information? Attend our Open House event on Tuesday, September 12th at 8am. Email Marie LePage (marie@groovecap.com) to get your invite!
Questions about the Catalyst Angel Program can be directed to Dawn Batts at dawn@techtowndetroit.org.
Questions about the Minnesota Cohort can be directed to Mickayla Rosard at mickayla@groovecap.com.
PROGRAM BACKGROUND
TechTown Detroit leads the powerful Catalyst Angel Program, which is designed to provide in-depth training for emerging angel investors. The Minnesota Cohort, led by Groove Investment Group and Forge North, connects Catalyst Angel Program participants in Minnesota and provides bonus content so together we can gain a deeper understanding of angel investing, engage in curated virtual courses, and connect in-person with peers. The Minnesota cohort is made possible with the support from BMO Bank.
FAQs:
Q: Is there a cost associated with this program?
A: No! This program is funded by a federal grant.
Q: Do I need to be a member of Groove to join?
A: Nope. You're welcomed either way.
Q: What if I am unable to make a class?
A: All classes will be recorded, in case you miss a session or want to refer to it later.
Q: What is an accredited investor?
A: SEC's definition includes any one of the below:
$200,000 of income individually (or $300,000 combined with your spouse),

Net worth of $1,000,000 or more (not including primary residence)

or

Professional certifications, designations, or other credentials issued by an accredited educational institution, such as Series 7, Series 65, and Series 82 licenses.